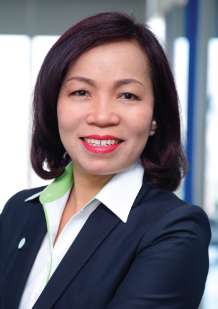 Ha Thu Thanh is among the first Certified Public Accountants in Vietnam and has over 35 years of international experience in corporate governance, risk advisory, auditing and accounting.
As the chairperson, she has made significant contributions to Deloitte – one of the four largest professional services firm in the world. Her contribution in advisory and auditing profession of Vietnam are made through various key positions she holds in Vietnamese and international social and professional organisations.
Thanh's work supports sustainable development, corporate governance, professional accountancy and advisory, leadership development, and women entrepreneurship. Madam Thanh was voted one of the "50 Most Influential Women in Vietnam" by Forbes in 2017 and 2019. She also received "Asia Pacific Entrepreneur Award" by Enterprise Asia organization in 2017.
She holds a Master of Business Administration from Hawai's University, a Bachelor of Science in Finance and Accounting, a Bachelor of Law, and a Certificate in Legal Practice. She
is a member of both CPA Vietnam and Australia. Thanh has been appointed as Chairperson of VIOD since August 2018.