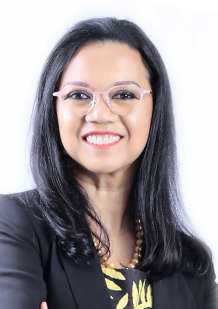 Ami Moris was appointed Chief Executive Officer (CEO) of Maybank Kim Eng group on 1 October 2018.
She is responsible for overseeing all of the investment banking, brokerage and derivatives businesses in Malaysia and across MKE's regional platform.
Ami joined Maybank IB in 2009 as Head, Equity Markets responsible for both the institutional and retail businesses. Ami played a leading role in the successful acquisition, integration, and subsequent management of Singapore-based Kim Eng Holdings, which transformed Maybank IB from a single-market entity into one of ASEAN's leading investment banks.
Under her leadership, MKE became ASEAN's largest equities franchise and was voted Best Broker in Southeast Asia for the last five consecutive years. In Malaysia, Ami guided the business from a Bottom 10 position to Top 3, while being consistently voted Best Brokerage in Malaysia.
Prior to her appointment as CEO, Maybank Kim Eng Group, Ami served as its Chief Operating Officer from 2015, overseeing the functions of the office of the Chief Executive Officer, MKE driving business strategy and management of the 10-country operating platform, covering ASEAN-6, Hong Kong, India, United Kingdom and USA. Before joining Maybank IB, Ami was with Kenanga Investment Bank Bhd which she joined in 2001.
Ami holds a Masters in History and Philosophy of Social and Political Science as well as a Bachelor of Arts in Mathematics & Politics, both from University of Essex, UK