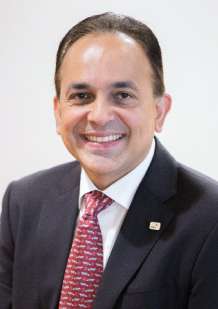 Sridharan Nair (or Sri as he is commonly known) is PwC Malaysia's Managing Partner and the Territory Senior Partner of the PwC Malaysia-Vietnam firm. He is also a member of PwC's Asia Pacific Executive Board, Chairman of the Board of its South East Asia (SEA) Consulting practice and the Board member representing SEA at the broader ASEANZ regional consulting practice.
Sri is an alumnus of Universiti Malaya and qualified as a Chartered Accountant with a Big 4 firm in London where he specialised in the financial services sector. He has 30 years' experience in audit and business advisory services, having worked with financial services clients in the UK initially and a wide range of clients across various sectors in Malaysia thereafter. He has been the lead engagement partner responsible for the audits of large listed companies in the banking, insurance, telco and airlines sectors in Malaysia. He has also led a number of cross border financial due diligence assignments in the financial services sector.
Sri was a regular speaker at forums related to the insurance sector in the past. In his current leadership role, he has been a regular speaker, panellist and moderator at conferences and forums in Malaysia on topics such as leadership, corporate governance, current economic issues and human capital.