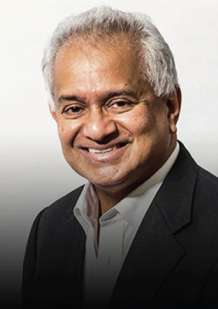 Tommy Thomas was educated at the University of Manchester and the London School of Economics.  He is a Barrister (Middle Temple).  He was called to the Malaysian Bar in 1976, and was in active and continuous practice until his appointment as the Attorney General of Malaysia on 4th June 2018.
As a barrister of more than 40 years standing, Thomas had the privilege of appearing as counsel in landmark cases in various branches of the law in all the courts of Malaysia, including the Privy Council in London, which was Malaysia's highest court until 1985. Thomas has more than 150 reported cases and hundreds of unreported cases.
In the corporate field, he appeared in Company, Liquidation, Receivership and Insolvency matters.  In the commercial sphere, he acted in Banking, Contract, Intellectual Property, Sale of Goods, Wills, Trusts and Land Law cases. Thomas appeared in complex litigation involving bonds and other sophisticated financial instruments. In Public Law, Thomas specialised in constitutional and administrative law cases. He was also very active in statutory interpretation disputes ranging from petroleum, asset management, securities law and local government.
Thomas acted in ground-breaking high profile litigation involving two State Governments in relation to their off shore oil and gas claims, and also acted for two other State Governments in constitutional and judicial review disputes.  He has represented regulatory authorities as lead counsel in their complicated civil litigation matters at the apex court. Thomas was regularly consulted by other law firms and appointed senior counsel in their litigation.  He often appeared as lead counsel for the Malaysian Bar in intricate and controversial cases.
He was involved in the largest litigation arising out of the ill-fated MH 370 disappearance in 2014, the trial of which will commence in the High Court at Kuala Lumpur.
He was a member of the Bar Council for over a decade.  He was Editor of its publication, Insaf from 1984 to 1987 and Secretary in 1995-1997.
Thomas regards himself as a social scientist, having abiding interests in economics, politics and history.  He has written extensively and presented papers on these subjects at various fora.  He has published 2 books of essays on these subjects.
He has been singled out for over 20 years as one of Malaysia's leading litigation lawyers by independent international publications such as The Asia Pacific Legal 500, Which Lawyer, Who's Who Legal (The International Who's Who of Business Lawyers), Commercial Litigation Lawyers of Asia and Chambers Asia.  Some of their descriptions follow.
"Widely regarded as one of the top lawyers in the country."
Chambers Asia Pacific
"He will be the cream at the top, strategic, clever,"  says a peer.
"We appear together often and I think highly of him."
Benchmark Asia-Pacific
"Tommy Thomas has an excellent reputation
based on success in some of Malaysia's most
significant court cases in recent years."
The Legal 500
"Peers have frequently used the word 'fantastic'
when describing his expertise."
Benchmark Asia-Pacific
"Tommy Thomas has always been there. He is a
Strong advocate and counsel," says one competitor"
AsiaLaw Profiles
"Tommy is the king.  He has an unparalleled combination
of skills, knowledge and sense, which enables him
to remain a top dog,' notes one competitor."
Benchmark Asia-Pacific